Articles
Smart Pulse Counter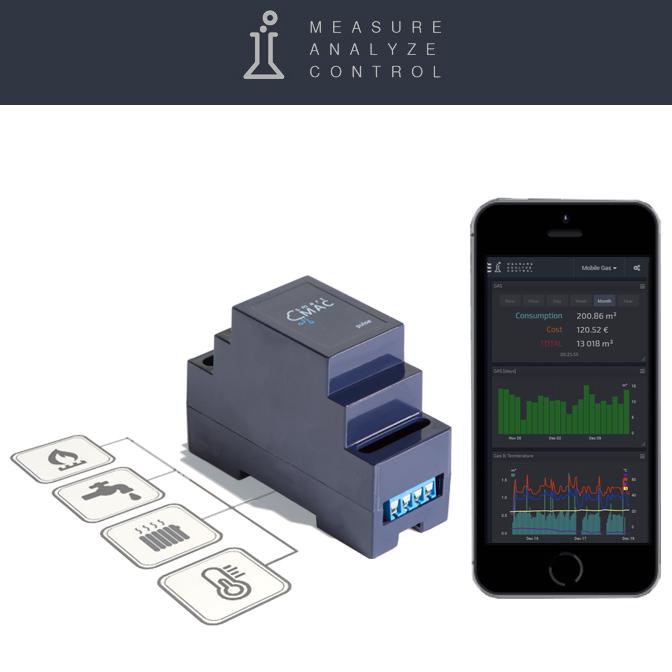 This device allows you to measure resource consumption by impulse readings from water meters, gas, electricity and other meters, equipped with pulse outputs.
The smart meter smart-MAIC D105 is able to take control and monitoring for:
- two pulse meters for gas, water, heat, wind, beer, milk ...whatever!
- five digital temperature sensors
- one analog sensor 0-15V for pressure, humidity, leakage, voltage, etc.
With the built-in relay you can organize the automation with conditions.

Key features:
Monitoring, Analysis and Control for any kind of consumption
Wi-Fi Wireless interface

Cellular GPRS optional

RS485 interface
Work time counter mode
Heat counter mode
Free cloud data server
Dashboard for data analysis and visualization
One-Minute data detail
Remote output management
Emergency power and offline memory
MQTT remote client

API interface for developers
DIN rail mounting
Measured parameters:

incoming pulses on the 2 input channel, imp
analog input voltage, 0-15V
5 temperature sensors DS18x20
humidity and temperature sensor DHT22
pressure, humidity and temperature sensors D280
CO2 (carbon dioxide) - sensor (RS485)
Wind speed and direction sensors
Dosimeter radiometer DR-20
Specifications:

| | |
| --- | --- |
| Pulse input |  two |
| Analog input |  0 . . 15V |
| Temperature measurement by sensor DS18x20 |  –55°C . . +125°C, accuracy ±0.5°C |
| Temperature and humidity measurement by DHT22 |  –40°C . . +80°C, humidity 0-99% |
| Temperature sensors | five DS18x20 or one DHT22 |
| Maximum load power at the output | 50W  |
| Wireless communication protocol | IEEE 802.11 (b, g, n) |
| Data refresh interval | 5 sec |
| Data collection interval | 60 sec |
| Save data without the connection | 25 days |
| Operating temperature range | -40 . . +60 ºС |
| Power AC or DC | 100. . 240V, 50/60Hz, < 1W AC |
| | 5V 0.6A DC |
| Dimensions | 90х63х34 mm |
| Installation type | for DIN rail |
| Weight | 0,1 kg |